Branding is important for every business, but when you work with top companies in retail and e-commerce, it's critical. Learn how Studio2 helped TDS Gift Cards establish their B2B brand after their company name change.
TDS Gift Cards is an innovator and leader providing comprehensive and strategically managed global physical and digital gift card programs. The company works with major brands, and boasts an expansive global network connecting these partners to more than three million points of distribution in 40+ countries globally. TDS had recently gone through a name change due to the sale of their parent company's name, and wanted to create a brand identity that would differentiate them from others in their industry and also create a strong foundation for their internal team to use going forward in a wide variety of marketing channels.
Logo, Brand Elements & Style Guide
With a global trade show just weeks away, we kicked off the project with the TDS Gift Cards team to understand their business, clients, and competitors and as well as how the branding would be applied.
Studio2 refined the existing TDS logo to take it from an interim solution created post-name change, to a strong representation of their brand. After reviewing the competitive landscape, a color palette of a charcoal-navy and white with aqua and orange was established as something that would be differentiated and ownable by TDS.
A font system was established to coordinate with the updated logo, and a brand style guide was created to help their internal team use the new branding and maintain consistency and professionalism in all of their marketing efforts.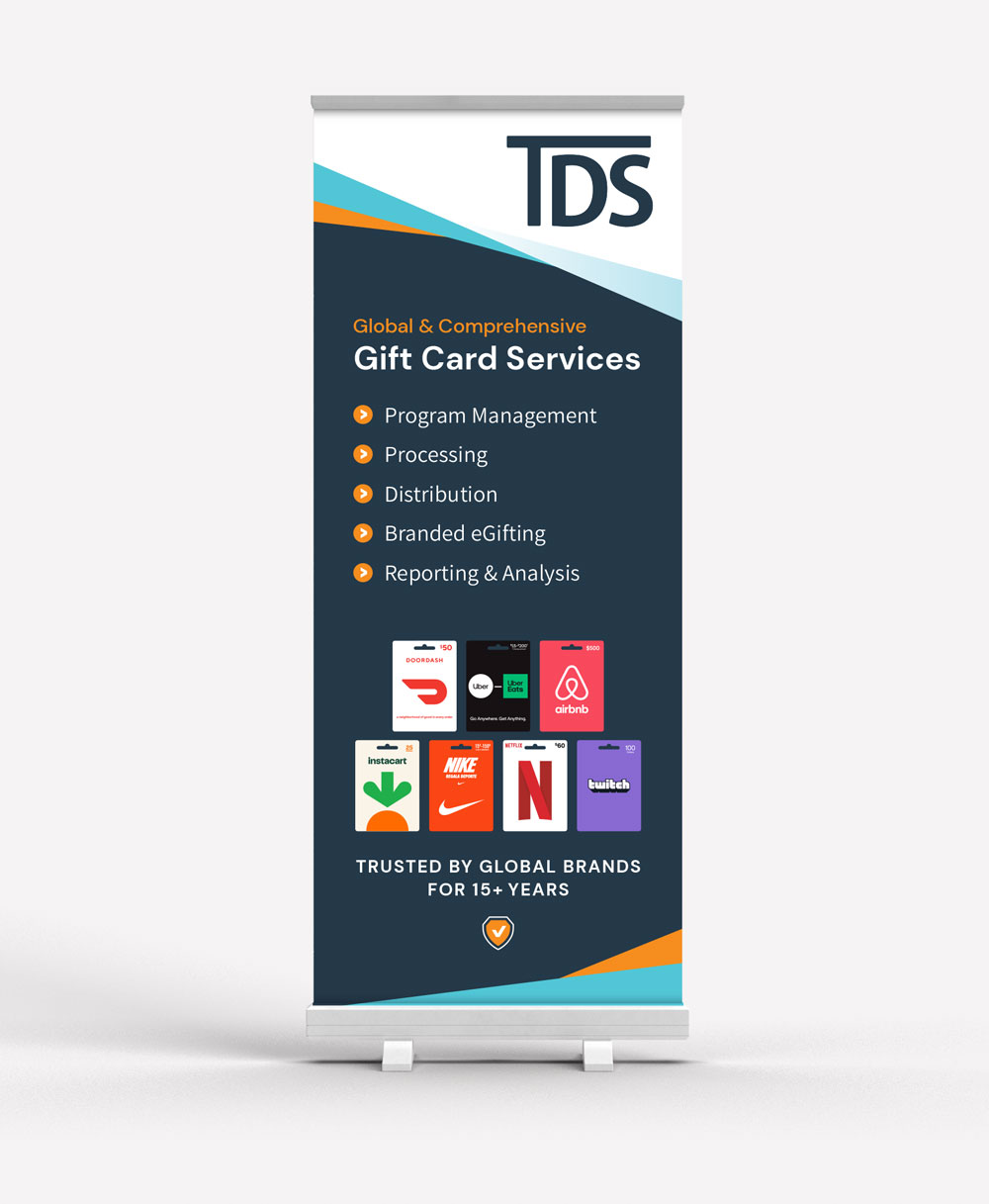 Knowing that a brand is more than the sum of its parts, the TDS team requested a toolkit of commonly used marketing materials designed with the new branding. These items provide multiple ways that the new visual brand can be used to tell their company story in a compelling way. It also demonstrates how the distinctive new ribbon element can be used to chunk out content into interesting and digestible sections.
The toolkit includes:
Brand brochure
Pull-up trade show banners
One-page handout
Print ad
Postcard
Google Slides deck template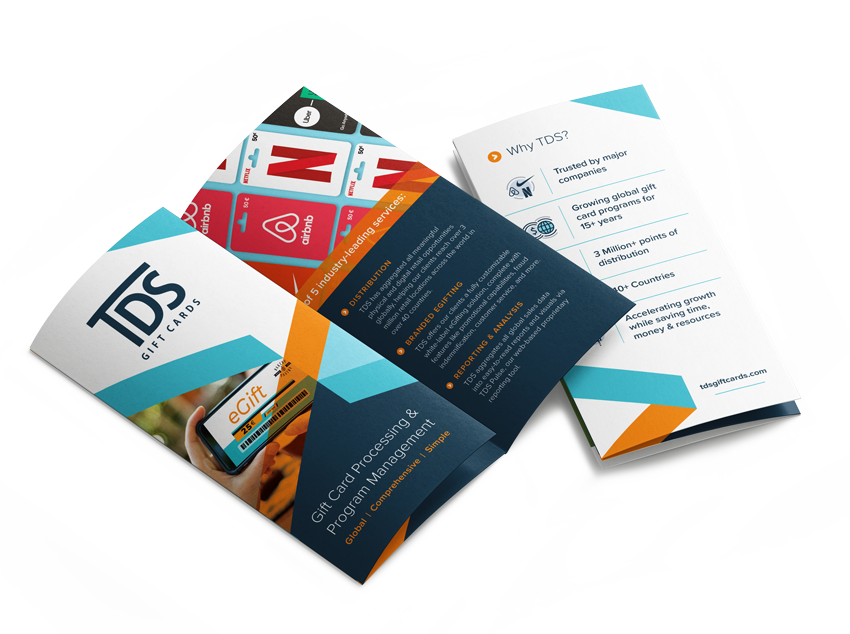 Branding that builds on the interim logo and can be easily extended to their recently developed website without a complete rebuild
Differentiated and ownable color palette and design elements that work in multiple marketing channels and formats
Helpful brand style guide and toolkit of templates that make it easier to roll out and use the branding in the future
Collaborative approach that leveraged the insights and expertise of the internal TDS team with the talent of Studio2
Beautiful, smart design
"Beautiful, smart design work with excellent service. The whole team at Studio2 is top notch. From web development to retail packaging, I couldn't recommend them more."
The best in website development
"One of the best website development firms...Great project management, great communication, and even better creative design work. Would highly, highly recommend them."
By far the best
"We have worked with many design companies and Studio2 is by far the best. We had Studio2 create a logo, brand identity and our packaging. We would highly recommend!"
Instrumental in our product launch
"Studio2 was instrumental in the launch of our new hit board game, Phone Phever. The creative staff was both responsive and patient in helping us bring our ideas to life under tight deadlines. Studio2 is Phonetastic!"
Fun and easy to work with
"We needed new print brochures completely re-designed, and we were very happy with Studio2's work. Very professional, fun and easy to work with. It was a real collaborative, and successful process!"
A great experience
"Everyone at Studio2 is so professional, patient and timely! Building a new website with them was such a great experience, I highly recommend them!"
Making new product dreams come true
"Studio2 is instrumental in making new product dreams come true! Their team helped us greatly in the development of our product logo, website, branding, social media, and exposure! We are beyond delighted to work with such a wonderfully talented group of marketing professionals. We HIGHLY recommend them for all marketing and design needs!"
Getting more business
"My website has been doing really well and looks fantastic. I feel like I've been getting a lot more business from the site just because it looks so good and is easy to use. Just wanted to say thank you and I love my site!"
Clear and uncomplicated process
"Their process was clear and uncomplicated. Their staff was extremely knowledgeable and responsive. The site they created looks highly professional and sends the message we were trying to communicate. I would recommend working with Studio2 if you are looking for a modern design at a reasonable cost."
A piece that we can be proud of
The brochure was a hit! We had soooo many compliments on it...It's so nice to have a piece that we can a) be proud of, and b) tells our story and our product line so succinctly and clearly. Your team did a wonderful job of asking the right questions, weeding through all of the extra "stuff," and coming up with the perfect marketing piece.