Saint Mark's Episcopal Cathedral
Saint Mark's enlisted the help of Studio2 to create a new logo, elevated brand and user-friendly website that would better reflect the Cathedral's growing mission and welcoming culture.
Why in heaven's name would a church invest in branding, marketing and communications? Because a faith community faces similar challenges to any business — increasing awareness, generating interest and encouraging people to take action. In the case of Saint Mark's Episcopal Cathedral, the largest Episcopal congregation in Minnesota, the organization's leadership knew that coming out of COVID-induced disruption, engaging current members and encouraging new ones to visit would be a larger challenge than ever before.
We started the re-branding project by conducting focus groups with a diverse group of stakeholders followed by an online survey. We wanted to learn what made members visit and eventually join Saint Mark's. Once we identified the strengths to leverage and obstacles to overcome, we used these insights to inform brand messaging, visual design and website strategy.
Saint Mark's previous logo beautifully represented the Loring Park area of Minneapolis where they're located. But our research showed that with several other large and historic churches in the same vicinity, Saint Mark's needed to visually communicate its unique identity more clearly. Studio2 developed a logo that highlights the most prominent feature of the cathedral's architecture — it's neo-gothic bell tower.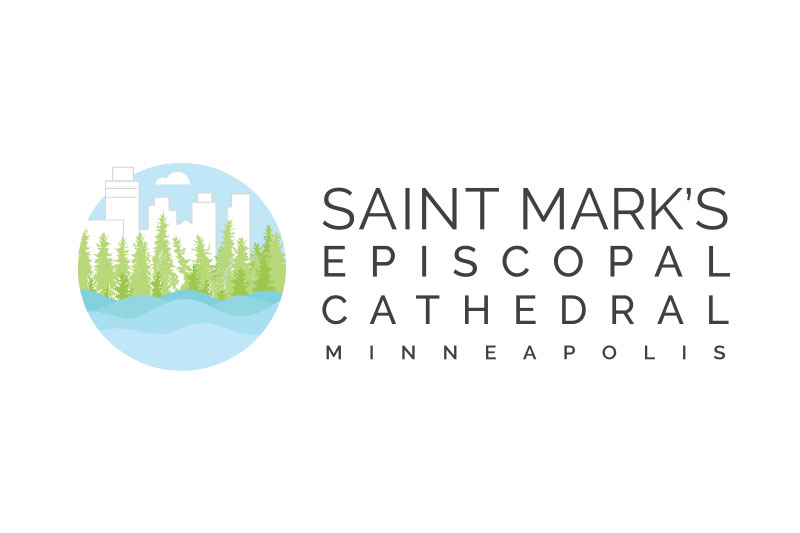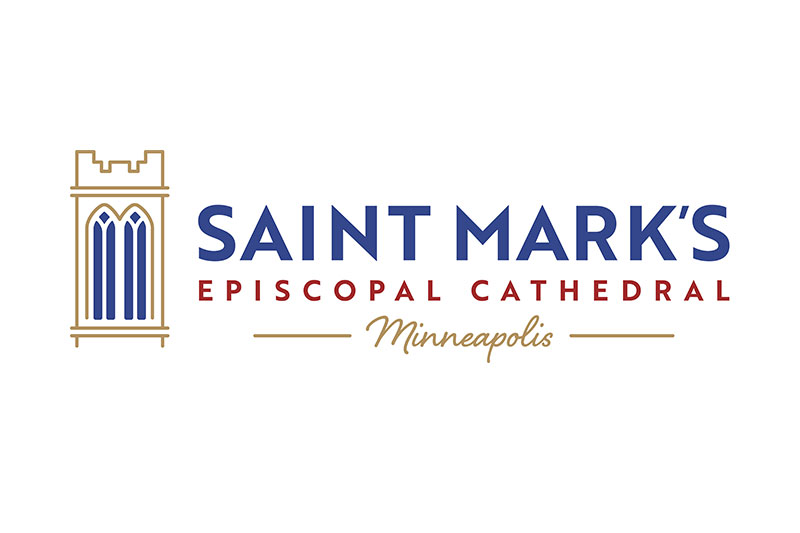 Before and After: Saint Mark's Episcopal Cathedral logo
The new brand color palette gives a nod to tradition which is one of the aspects we learned that people appreciate about Saint Mark's. The logo features a blend of modern and classic fonts so it feels current and vibrant in keeping with the church's progressive ideology. Variations of the logo were developed for horizontal and vertical uses as well as a "badge" version that can be used for social media.
Studio2 also developed a new website to bring the new brand to life. It features quick links to frequently used content, reorganized pages, a robust events calendar, and helpful information for newcomers. A new set of pages were created to highlight the spaces and services offered for weddings, funerals and other events. These pages support the Cathedral's goals of generating income to support their operations and mission, and also helping people experience the beautiful, sacred spaces and welcoming culture of Saint Mark's, encouraging them to make it their church home.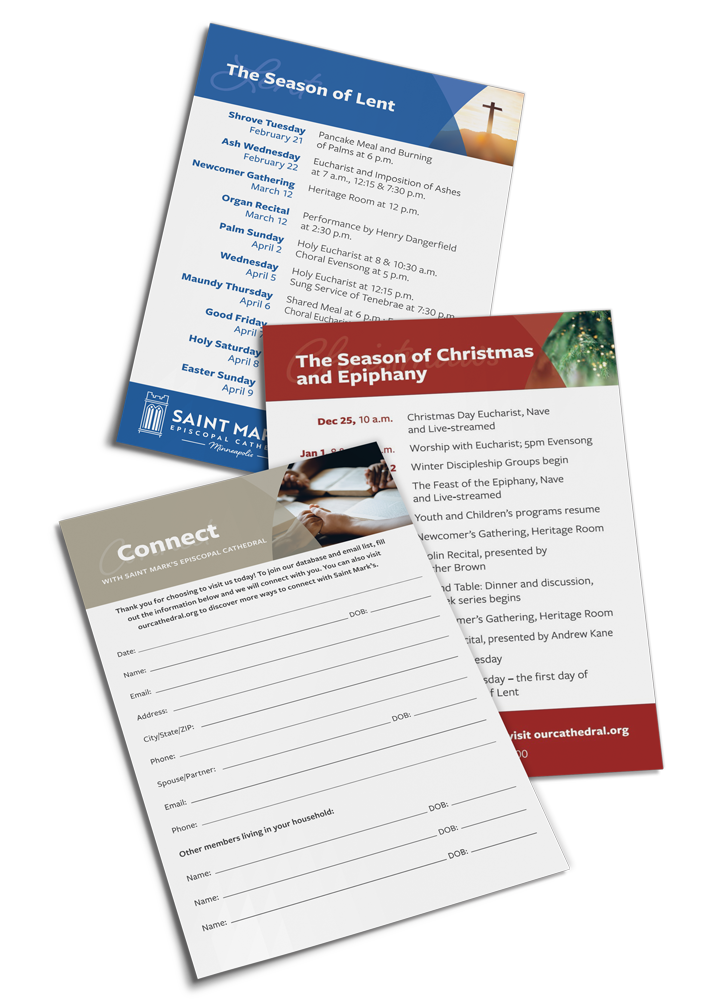 Comprehensive rebranding based on insights
Brand identity that conveys the vibrancy of the spaces and people that make up Saint Mark's, identifies the Cathedral via its iconic bell tower, and aligns with The Episcopal Church and ECMN in a fresh way
Multiple logo formats and flexible design elements that can be adapted to a wide variety of communications channels from member emails to social media and more
Beautiful, smart design
"Beautiful, smart design work with excellent service. The whole team at Studio2 is top notch. From web development to retail packaging, I couldn't recommend them more."
The best in website development
"One of the best website development firms...Great project management, great communication, and even better creative design work. Would highly, highly recommend them."
By far the best
"We have worked with many design companies and Studio2 is by far the best. We had Studio2 create a logo, brand identity and our packaging. We would highly recommend!"
Instrumental in our product launch
"Studio2 was instrumental in the launch of our new hit board game, Phone Phever. The creative staff was both responsive and patient in helping us bring our ideas to life under tight deadlines. Studio2 is Phonetastic!"
Fun and easy to work with
"We needed new print brochures completely re-designed, and we were very happy with Studio2's work. Very professional, fun and easy to work with. It was a real collaborative, and successful process!"
A great experience
"Everyone at Studio2 is so professional, patient and timely! Building a new website with them was such a great experience, I highly recommend them!"
Making new product dreams come true
"Studio2 is instrumental in making new product dreams come true! Their team helped us greatly in the development of our product logo, website, branding, social media, and exposure! We are beyond delighted to work with such a wonderfully talented group of marketing professionals. We HIGHLY recommend them for all marketing and design needs!"
Getting more business
"My website has been doing really well and looks fantastic. I feel like I've been getting a lot more business from the site just because it looks so good and is easy to use. Just wanted to say thank you and I love my site!"
Clear and uncomplicated process
"Their process was clear and uncomplicated. Their staff was extremely knowledgeable and responsive. The site they created looks highly professional and sends the message we were trying to communicate. I would recommend working with Studio2 if you are looking for a modern design at a reasonable cost."
A piece that we can be proud of
The brochure was a hit! We had soooo many compliments on it...It's so nice to have a piece that we can a) be proud of, and b) tells our story and our product line so succinctly and clearly. Your team did a wonderful job of asking the right questions, weeding through all of the extra "stuff," and coming up with the perfect marketing piece.